I have found Rivendell, and it's a bed and breakfast resort in Guatemala.  After a week of non-stop diving, riding, exploring, and touring, I needed a rest, and La Casa de Don David- literally, the last homely house before the wild jungles and ruins in the north- was just what I needed.
According to travelers' tales and the back of the cocktail menu, back in the 70s the American who would come to be known as "Don" David traveled to Guatemala and fell in love with a local girl. Together they discovered an enormous holy Ceiba tree growing on the shores of lake Peten Itza and resolved to build a travelers' paradise around the great tree, one building at a time.
Mayan theology believes the Ceiba tree spans across worlds (c.f. Norse Yggdrassil), and David and Rosita constructed an impeccably manicured garden around the tree with radial foot paths oriented to the cardinal directions. The Mayans associate a different color with each direction, and the flowers in the garden reflect this. In a country whose primary mode of lawncare consists of 8-year-olds swinging machetes, all of the grass on the grounds is trimmed to putting green precision.
Lots of people casually dream about running away to paradise and opening a little B&B, but David and Rosita actually executed, constructing tall walls to separate their paradise from the desperate poverty of the village.
The rooms are cheap, clean, and air conditioned. A delicious meal is included for each day (though reservations are needed by 4pm so Rosita can obtain the ingredients) and the service is impeccable.  My $2 beers were delivered with politeness, efficiency, and a chilled mug- service surpassing just about anyplace's in the US.
Most importantly, there is a zipline (the "Toucan Express") connecting the kitchen to the balcony overlooking the lake on the other side of the resort. This enables drinks to be delivered in record speed and unparalleled style.  Childlike wonder and alcoholism combined to ensure I made heavy use of this.
As I looked out over the garden and the white-trunked tree, I couldn't help but feel that if this were a movie, I'd find peace here only for a day, before the chaos that follows me catches up and leaves the place in ruin. The final shot would be of the ancient Ceiba tree in flames.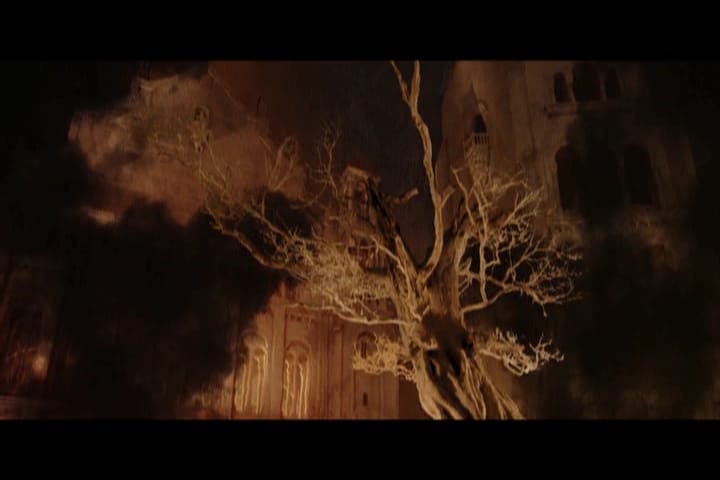 Then that literally happened.((Apparently it was some kind of Mayan fire-ritual the Don puts on every so often, but I didn't get the memo until after I saw the garden engulfed in flame.))((It wouldn't be the first time this has happened around me, even this week.  San Pedro suffered a massive fire the night before my departure, too.))
The next morning I shouldered my pack with a tinge of smoke still on the air, and flagged down an old school bus headed to Flores- the city on the lake.